Rosas' Cantina!
In season rates $175.30 per night for 2 occupants.
5 night minimum.

Adults only.
Cleaning and tax additional.
Other discounts may apply.
Email for rates-tell me how many people & what dates.

For Property DESCRIPTION click here
As with all of our properties,
we will only rent to responsible adults who would care for and appreciate this home.
This is an adult only property (1 couple).

No wood burning or fires of any kind (except normal use of our gas outside grill) are allowed. No rock collecting or rock climbing is allowed. If you have a question whether a certain activity is allowed, please call and ask before you proceed.
Sorry, no pets allowed.
IF ANY GUEST OR VISITOR SMOKES IN THIS UNIT DURING YOUR
STAY YOU WILL FORFEIT YOUR ENTIRE SECURITY DEPOSIT

(E-MAIL)**HEY PAT! TELL ME MORE ABOUT Rosas' Cantina!**(E-MAIL)
If email link doesn't work for your system
then copy and paste jvacat9571@aol.com
(CLICK on image to enlarge)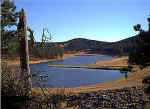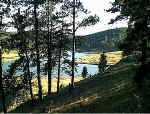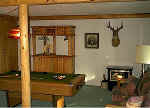 Lake view Slope view Pool/bar/living room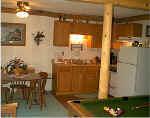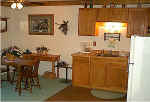 Kitchen/dining area Another lot view Kitchen/dining area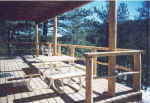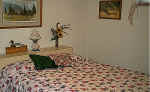 Huge deck - Lake View!! Bedroom Bathroom
This hideaway is at the end of a 450' one lane unimproved trail. To get to the entrance of this trail involves traveling only about 1 mile of maintained gravel road. The other roads that bring you here are State or Federal hard surface highways. Most standard suspension cars, SUV's, and pickups will have no problem entering the lot. Vehicles with lowered or altered suspension and/or inexperienced drivers will not be able to enter the lot and drive the "natural" scenic 450' trail to the "hideout".
This will truly be an adventure. When you arrive at the entrance there is a slight incline with two paths for a vehicles tires that lead into the forest. You will think at first that nothing could be back there. Drive slowly because some parts of the trail are rough. You didn't come all this way for blacktop driveways, did you? Or if you prefer, when you first get there, walk the 450' to the hideout. Don't mind the "NO TRESPASSING" signs. They apply to everyone except our guests. You might see some wild turkeys or deer on the trail if you're quiet. Watch the sky to see bald eagles or peregrine falcons floating in the thermals high in the unbelievably deep blue sky. You'll marvel at the contrast of the snow white, billowy clouds and the sky.
This is an ADVENTURE!
And it ain't no motel, Partner! This is a real hideout with all the modern conveniences. The water is pure mountain refreshment and is sucked up out of the 207' well. It is so cold that it will hurt your teeth! Doc Holiday or Wild Bill would do just about anything for a cup of java made from this pure mountain water! (So will you!) A pilgrim just ain't gonna make better coffee (or tea) nowhere...nohow!
Our hideout is located on the side of a mountain on a 6 acre private lot. The lot is about 95% untouched and natural. It will seem like your own private National Forest Park.
This 1 bedroom/1 bathroom unit is the walk-out level of a newer log home. The deck exceeds 300 sq. ft. and is covered. Deck view and view from units double patio doors is probably the most fantastic and breath-taking sight in the entire Black Hills!
Unit sleeps 2 adults and has fully equipped kitchen, dining area, cantina or living area, pool table, rustic bar
component, gas fireplace, portable TV/VCR, and a double size futon sleeper in the front
section. Bedroom has queen size bed, 19' TV, and window. Deck has patio furniture
and an outside grill. Also full private bath.
We have placed over one-half dozen benches throughout the 6 acres,
where you can enjoy some extraordinary views. This is a very quiet, extremely private spot for
one couple that will give you real seclusion for a relaxing, memorable, & enjoyable vacation...the way it should be! Be ware that the sun is intense at 6000' - bring suitable sun screen and sunglasses.
Bring along your favorite book to enjoy on the deck; your binoculars to view the wildlife; your
hiking shoes for walking up Harney Peak; suntan lotion, & a camera with plenty of film! Plan
on some picnics & exploring the back roads - we have maps available.
If you want to broaden your horizons, we know of some extremely secluded places only minutes away by car. Places that are perfect for picnics or just soaking up some more wilderness solitude.
Never start any type of open fire in the forest areas. If you have questions contact the Forest Service in Custer or Hill City. No open fires of any type are allowed on any of our properties. No rock collecting or rock climbing is permitted. Enjoy the lake and valley view down on the point, but make sure you stand well back from the drop off. It is about 125' straight down.
CLICK HERE! For a photo tour of the acreage and benches!!!
Copyright 2003-2018 by John Fink

(E-MAIL)**HEY PAT! TELL ME MORE ABOUT Rosas' Cantina!**(E-MAIL)
If email link doesn't work for your system
then copy and paste jvacat9571@aol.com