Welcome to Black Hills Rentals, where you'll find a delightful
selection of secluded, private forested vacation log homes and
cabins for rent.
We also have an executive 3 level home across from a golf course, and
a historic 5 acre ranch west of Custer State Park.
All are close to Mt. Rushmore, Crazy Horse Memorial, Jewel Cave, the
1880 Train, and MORE.
Scroll down to see our VACATION HOME properties

************************************************
14th Annual American Picnic Celebration
July 4, 2021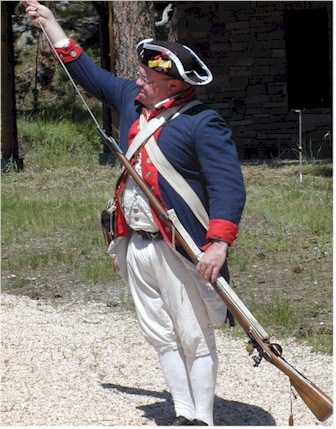 *Featuring a living history lesson for any age.
*Revolutionary War seminar with question/answer period.
Our July 4 festivities are extremely popular, & attendance is limited to our Rental Guests.
(Book your July 4th vacation as early as possible to avoid disappointment)
(Keep scrolling down to see the vacation rentals)

---

E-Mail US BLACK HILLS FUN FACTS INTERESTING LINKS
If email link doesn't work for your system
then copy and paste jvacat9571@aol.com
---

Please be patient for this page to load, then scroll down.
It contains our vacation rental properties with links to lots of photos.
Make sure you scroll down to the very end of the page to see them all!

---
We can accommodate visitors to the Black Hills
on short notice. Keep the phone contact numbers
handy. We may be able to get your family into one of our
homes on the same day you call!!

For information and availability call Pat at:
1-605-209-3771
Make sure to leave a message if I'm unavailable!!!
Or you can text the above number too.
CLICK HERE! for a short, printable flyer on our properties...
keep it handy when you get in the Hills area!
***************************
"Welcome to blackhillsrentals.com"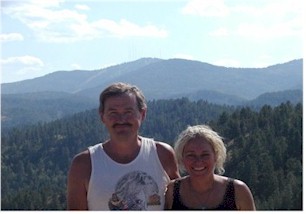 John & Pat

Hello and welcome to our collection of delightful vacation home rentals! This grouping
of private family mountain residences is unique to the Black Hills, if not the Nation. Most are
full sized, year round homes and we have some smaller fully equipped cabins for smaller families.
Each home or cabin has it's own lot that range from almost one to six acres!
We take immense pride in these properties (and it shows). You'll see.
But, for us to continue to make
them available for family vacations, we need your help.
These properties may not suit some people or groups. If you are looking for a "party place", or
have adults or children in your group that are destructive or hard to manage -
then these properties are definitely not for you.
NO NON-REGISTERED VISITORS OR VEHICLES ARE PERMITTED.

Our other guests, and our many return guests, come here not just for the privilege of staying in one of our
mountain homes...they come for the peace, solitude, and relaxation that our homes and the surrounding forest and mountains offer.
While at our homes you can observe deer, turkey, endless variety of birds, fox, coyote, wood chucks, squirrels, chipmunks, whistle pigs, and more.
This is why our homes are a "quiet zone".
We have pledged to our past guests that we will maintain these properties in the same condition as they found during their last visit.
That means that all guests must love, cherish and protect these homes as much as we do (and we do).
Our rules do not restrict a normal family vacation...they enhance and expand your family vacation experience.
We have been proudly serving the vacationing public since 1994, and we hope you are able to become part of our growing group of very loyal guests.


Your hosts,
John and Patricia
*******************************
Introducing the...
The Gold Star Ranch!

A very special place in the Black Hills where vacationing families are the only residents -
It is located a few miles outside of Custer on a gravel road. Might be a little tough to find at first, but we like it that way! (You will too!) The Gold Star Ranch! consists of a private group of solid log homes that await you at the end of a turn or two and just over a small hill and after you turn right where you should have turned left right where we stacked the three rocks next to the pine tree with a crooked branch☺!

These homes are located at the end of a dead end road in the woods and have Forest Service wilderness on two sides. They are in a secluded and forested location. There is no through traffic other than deer. All homes are reserved exclusively for our guests. Each home sits on a one or two acre + parcel of Black Hills Forest! Each home is a private residence with it's own driveway.


The Gold Star Ranch! is reserved for registered guests only and the vehicles shown on the contract-
NO NON-REGISTERED VISITORS OR VEHICLES ARE PERMITTED.
(We think that you will want to keep The Gold Star Ranch! a secret, anyway!)
If you want to reserve one of the homes in The Gold Star Ranch! you should book it well in advance.

Yes, we are quite protective of these (and all of our) properties...and you'll understand why...
when you spend your vacation at any of our homes at the...

The Gold Star Ranch!
shines like no other!

---
The following properties are located in
The Gold Star Ranch! (Just outside of Custer,SD)

Renegade!
you won't wanna leave!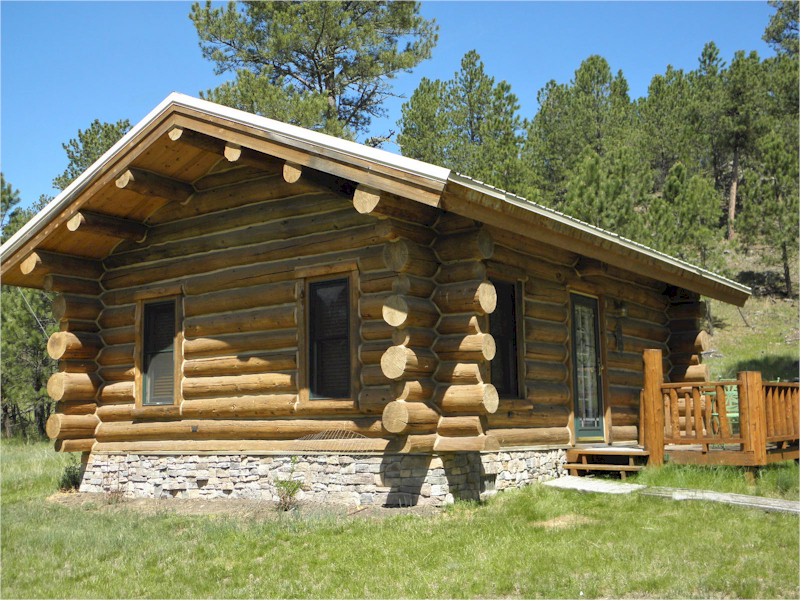 "...from this place you can hear the earth speak"
Rare cedar log cabin. 1 bedroom, 1 bath, can sleep 4. Full kitchen.
A true frontier location that is only 25' from the USFS wilderness.
Don't worry, there are plenty of wide open spaces around the Renegade!

Large spruce logs were used to build this authentic, frontier log cabin. It is delightfully warm and cozy.
It is difficult to describe...but it gives you an unusual kind of...secure... feeling. It takes you back to a simpler time...
back when justice was truly swift and dealt by the sound of metal clearing leather.
Sleeps a family of four (2 adults & 2 buckaroos).
A premium quality, queen bed in the bedroom. Bedroom has it's own access door to the bathroom.
Futon (full size with inner-spring mattress) in living room. Fully equipped kitchen with dishwasher.
12'x20' deck faces USFS wilderness that is just a few steps away.
Another 8'x8' deck faces to the east at the entrance door - a great place for your morning cup of coffee.
This is a memorable location for special occasions, such as Honeymoons & Anniversaries!
"Renegade is special"
THIS IS A NO SMOKING ALLOWED VACATION RENTAL
CLICK HERE FOR PHOTOS AND RATES
***************************
Comanche Lodge!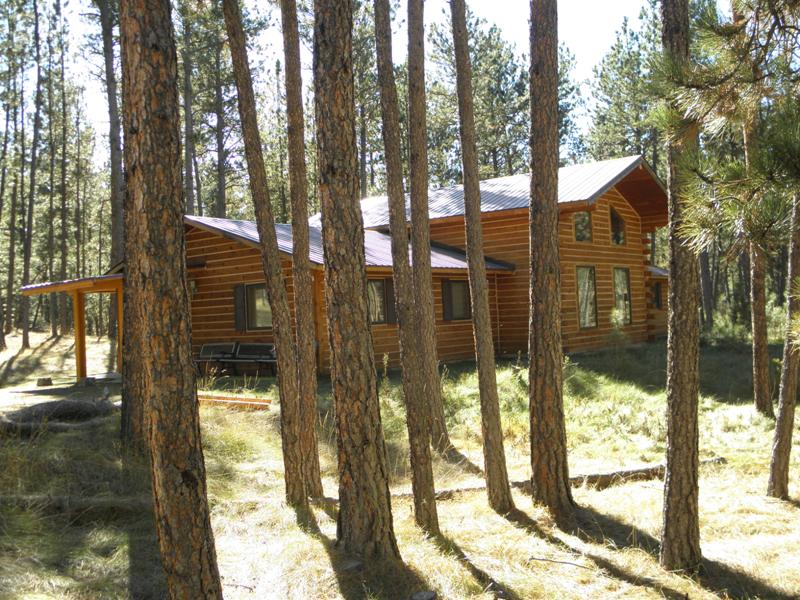 4 bedroom plus huge loft. Soaring ceilings in living room. Deluxe and fully equipped kitchen. A unique game room with a deluxe, oak, game table with 4 chairs that converts to an additional dining table with a flip of its top! 2 full bathrooms. Full laundry. Private rear patio with grill and patio dining set. New kitchen updates in 2016. New covered patio addition in 2016. Very secluded location a few miles West of Custer. 2.11 wooded acres with a long driveway. The "COMANCHE" is a spacious log residence that can sleep up to 18.

"You will stand tall...like these many trees...
listen to their whisperings...they have great wisdom"

THIS IS A NO SMOKING ALLOWED VACATION RENTAL

CLICK HERE FOR PHOTOS AND RATES
***************************
Trails End!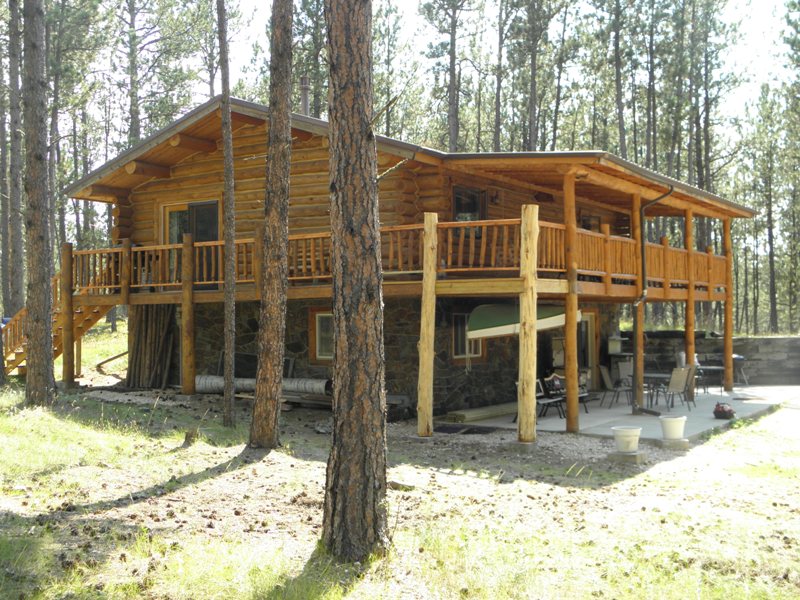 End of the road privacy. Heck, this is the end of the road! The 2+ acre lot borders hundreds of thousands of acres of National Forest Service wilderness. It is only about 1 mile off of Hwy 16 (just outside of Custer) so it's easy to get to the area attractions and the grub store. We are pleased to have this classic, log home in our vacation home lineup. 3 bedrooms, 2 bathrooms, full Laundry (new HE washing machine in 2016). Living room with large rock fireplace, large family area on lower level, delightful (fully equipped) kitchen, and a huge wrap around deck (partially covered) on the second level. Sleeps 12. The warm feeling that this home offers is difficult to describe. Sony 53" big screen TV home theater in one side of the family room...a pool table in the other.

After your week vacation ends and you're moving down the driveway on your trip home...you'll look back knowing a single week simply isn't enough. Don't worry, it will patiently await till your next visit.
For more photos click the link below.
This beautiful home is for adults and children (IF the children are well behaved, respectful of the property & surroundings, and under adult supervision).

"these big sticks will call you to them...
you will touch them and feel what riches Mother Earth has given"

FOR MORE PHOTOS AND RATES CLICK HERE!

THIS IS A NO SMOKING ALLOWED VACATION RENTAL
***************************
papoose!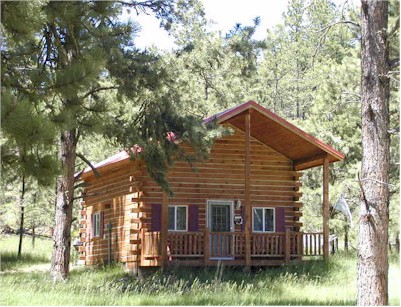 Experience an authentic, square log cabin. There are still remnants or ruins of old prospector and pioneer cabins in the hills that are evidence of this log home design. We know where many of these prospector ghost towns are located. Full kitchen, living area with new innerspring mattress futon, and full bath with laundry on the main floor. Soaring ceilings and a staircase lead to the loft area with two premium quality, queen beds. This cabin can sleep up to six. This lot borders National Forest land...hundreds of thousands of acres of wilderness just steps from the back door! Rear 10'x20' deck! Outside grill, patio set, Adirondack chairs. Deck looks directly into the USFS wilderness. Lounging is great on either front or back deck. The loft area also has another private deck accessed through a door on the second level! A perfect place for book reading or thinking...

Oops! Almost forgot...this cutie sits on its' own two + acre lot!!!!

"a family should use little papoose to make powerful memories"

FOR MORE PHOTOS AND RATES CLICK HERE!

THIS IS A NO SMOKING ALLOWED VACATION RENTAL
***************************
Desperado!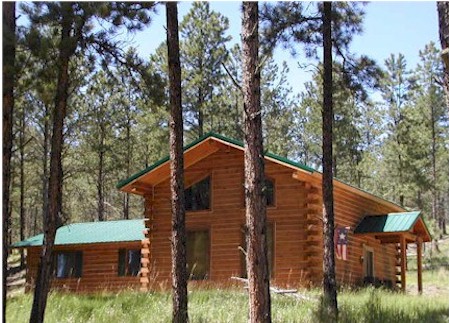 Desperado! will sleep a total of ten. Square log construction.
Located on its' own two+ acre lot!! A long driveway leads to this hideaway. The rear lot line borders National Forest public land. Wait till your see the back yard! Real privacy and only steps away from thousands of acres of Federal Forest Service wilderness. Complete with premium furnishings. Many furniture items are rustic or fine antique reproductions. Decor is Western with a whole bunch of Deadwood, Dakota Territory flare! Heck there's a real bar and a saloon style eating area with two tables. Anyone out there got a hankerin' for dealin' a little Pharaoh? Check all them six-shooters at the door, pardner!
It is more than just a make-believe theme...it's an experience! (This ain't no motel, pardner! Click the link below and check this home out...reserve it while you can! If'n Desperado! is booked and the rest of our mighty fine ha-see-enda's are too, you might have to stay in one of them tiny motel rooms in town. Heck, just give us a call and we will tell you how you can drive by it...shucks...least you oughta see what you missed out on!)

Come back to your senses...at Desperado!

"like the changing fall colors of the great aspen tree...you too will change and your spirit will fill with color and happiness"

CLICK HERE FOR MORE PHOTOS AND RATES!

THIS IS A NO SMOKING ALLOWED VACATION RENTAL
***************************
Mossy Rock Stage Stop!
(Yeah, it's a real Roadhouse)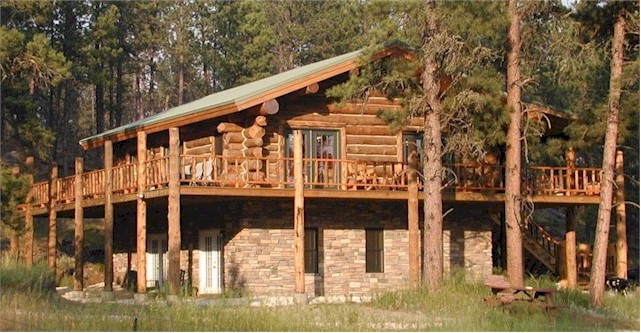 "these ancient, mossy rocks have no tongue...but touch them... they will tell you of powerful things...things we all must know...
you must listen..."
***************************
Poncho's Hideout
(Yeah, it's a real hideout)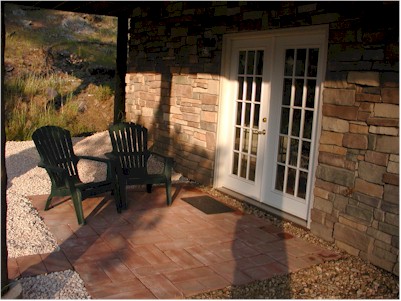 Poncho's Hideout is complete and ready for you...
It is a whole bunch like Lefty's.
Bonnie and Clyde would have staked their claim on this un!
(will you?)
It's a one room suite (queen bed & a sofa sleeper) with a full kitchen
& a private bath. It has its own private "forest" side patio.
This is an "adults only" property - age 18 and older.
---
Lefty's Hideout
(Yeah, it's another real hideout)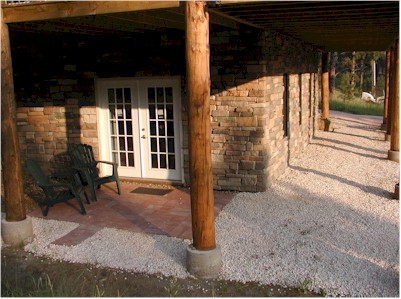 500 square foot private suite (sleeps 4 max), fully equipped kitchen, bathroom, living area, queen size premium bed,
queen size sofa sleeper, private patio, direct view and access to Forest Service wilderness. View to the west looks out to the sunny meadow. Ponchos and
Lefty's are adjoining suites, so that combined they offer 1000 sq. feet of living area with 2 of everything!
This is an "adults only" property - age 18 and older.
"The pines can whisper special messages...
take time to listen and understand.
You will not be like the others...who listen but do not hear"

***************************
El Dorado Ranch!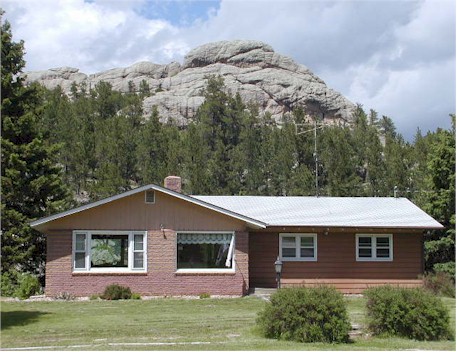 A proud historic addition to our vacation homes. 4 bedroom, 2 bath, full laundry, two level ranch style home, accommodating up to 12 people. Knotty pine, tongue and groove interior finish with lots of big windows letting in lots of sunshine! This is one of the most desired scenic properties in Custer County, if not the entire Black Hills area. A huge 5+ acre lot! The large grassland pasture of this ranch is natural. It is exactly the way it was when Custer and his troops walked through and camped in this same field. The photo shows house on right. Calamity Peak (in the background) is a mountain that towers above the property. It's a large Western ranch style house with a huge, solid rock mountain in its back yard! At the base of the mountain and running the length of the property is French Creek. Excellent fishing and gold panning is only a short drive away. This property is significant, historically, during Custer's expedition in 1876. Photos from 1876 show this location and "blue coats" standing where this home is located. Situated about 3 miles East of Custer on Hwy 16, just outside of Custer State Park. An extremely historical country setting.
Mickelson Trail is across roadway.


It is the largest lot in our collection...and yes, it is a small ranch.
A brand new forest green roof and cedar split rail fence around the perimeter with gated access.
As our guest you can walk through this field...and dream.

"At night, big sky with many stars makes you feel like
small prairie chicken"

THIS IS A NO SMOKING ALLOWED VACATION RENTAL
CLICK HERE FOR PHOTOS AND RATES


***************************
Thunder Heart!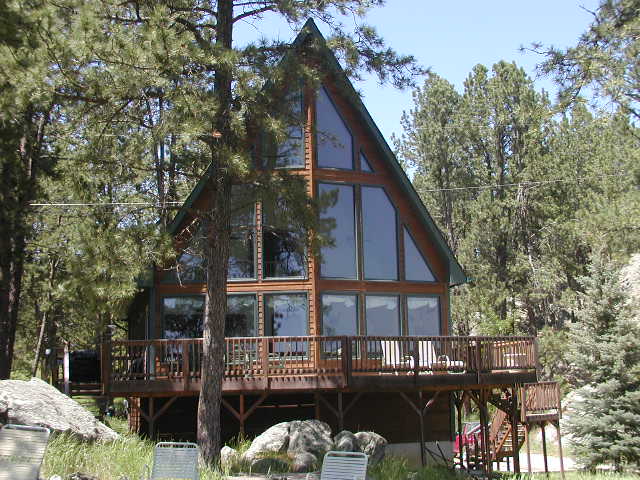 Wow! - Is what you'll say when you see this 4 bedroom/3 bath Black Hills chalet located outside of Custer. Directly across from the Rocky Knolls public Golf Course, and French Creek! 3 levels with huge wrap around deck & huge granite outcroppings. Gas fireplace, gourmet kitchen, & 30' soaring ceilings! Premium furnishings! Sleeps up to 12. This home is for adults and their children (IF the children are well behaved, respectful of the property & surroundings, and under adult supervision).
You only live once...they say.

"Even if you are a small Chihuahua...it is good to feel
like Big Dog when on vacation"

THIS IS A NO SMOKING ALLOWED HOME!
CLICK HERE FOR PHOTOS, RATES, AND INFORMATION!
*********************************
Rosa's Cantina!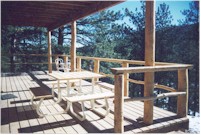 Hey Pardner! Got a hankerin' for some adventure? Yourin' for a 'hole passel of fun just tryin' to find this un! Kinda place that feels a whole lot like a real hideout! Earp, Holiday, Sundance, Billy the Kid, Cody, Ringo, Crockett, Bowie, Hickok, Masterson, Calamity, Poker Alice, Marshall Dillion, Miss Kitty and others would be mighty fast to belly up to the check in desk for this un. If they all showed up at once I would quickly find a wide tree for the fear of them fixin' to settle who gets it with smokin' gun barrels and flyin' lead! Yup, as you can see it has a big deck and has a breath takin' view of a lake and valley. One bedroom, one bathroom, full kitchen, bar, pool table, gas fireplace, and futon. Adults only - one (1) couple maximum. Free nightly serenades by local Coyote group!

"a place where you will become one with the trees and Mother Earth...
the wisdom and strength you receive are powers that are ancient"

THIS IS A NO SMOKING ALLOWED VACATION RENTAL
CLICK HERE FOR PHOTOS, RATES, AND INFORMATION!

*******************************

Do you have special interests?
Whatever your interests, there is a good chance we
will know when, where, and how to explore the Black Hills
with your special interests in mind!
Just ask!


---
Travel the Oyate (oh-ya-tay) Trail - CLICK HERE!

---
We are eager to meet and greet our new and past guests! Our personalized service includes
delivering your vacation home keys directly to you at the home the day you arrive. We are available
that day and each day of your stay to answer questions about attractions, directions, and more.
Just ask!
***************************








My name is Pat, & I will handle all email, phone calls, reservations & questions you may have for JPF Vacations.

Click on my image to email! Thanks!
If email link doesn't work for your system
then copy and paste jvacat9571@aol.com

---

PHONE NUMBER FOR RESERVATIONS AND INQUIRIES!
1-605-209-3771 AND MAKE SURE TO LEAVE A
VOICE MAIL MESSAGE IF I'M ON ANOTHER CALL! ت
Or, text us and we'll get back to you.

JPF Vacations
PO Box 762
Hill City, SD 57745
Email us: JVacat9571@aol.com
If email link doesn't work for your system
then copy and paste jvacat9571@aol.com



***************************
BUYING (or selling) property? Have a desire to own a piece of
the BLACK HILLS?!!!!!! But you don't know who to call?
Ask us! We know an Agency you can TRUST
that offers a real estate service without pressure.
***************************
Updated 1/18/2021
NOTE: ALL INFORMATION IN THIS WEBSITE IS SUBJECT TO ERROR/CHANGE,
No photo, information, or web page can be copied or reproduced from this website in any way with out written permission of the web sites owner. Photos contained in this web site may be the property of others and will require the written permission of that particular owner to copy, or reproduce in any way. (Some of the partners of JPF Vacations, LLC are licensees)
Copyright 2003-2021 by John Fink